We are delighted to invite you enjoy an on-line concert by the
**Flora Brass Quintet**
organised in partnership with Hay Music:
Thursday 11th March, 7pm - preceded by a live introduction by the players at 6.15pm.

To book tickets, click here Note: as soon as you've paid for your ticket you'll be sent a link - possibly followed by an email repeating the link - which will allow you to watch the concert recording immediately.

Rather than do this we suggest you pause there and wait until after the live Zoom discussion with the players on 11th March at 6:15pm. The link to this introduction will be sent to you by e-mail the day before.

This is not as we would have wished and has come about because of some difficulty in setting up the concert recording. We will strive to do better next time.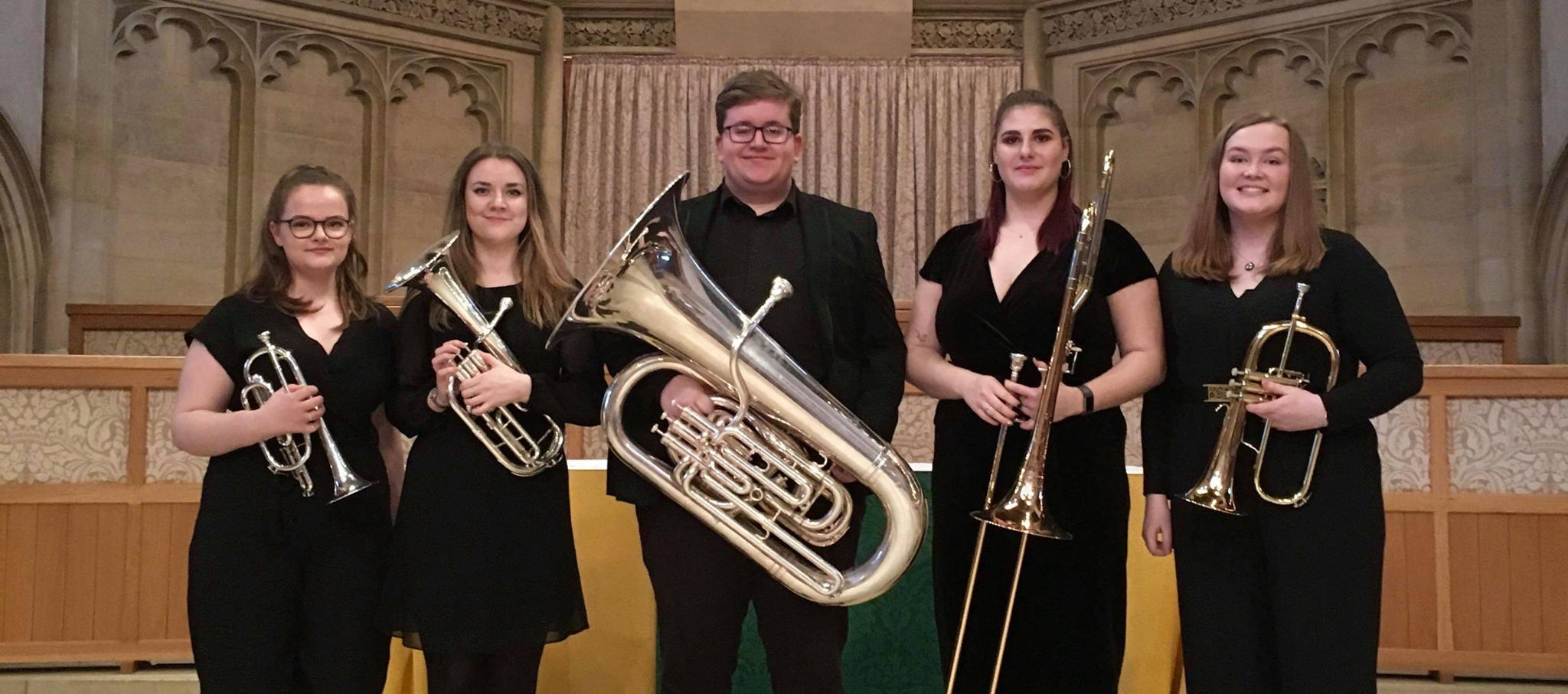 Programme (approximately 45 minutes)… an eclectic mix of music spanning many genres:
Die Bankelsangerlieder - Unknown
A Newfoundland Sketch - Howard Cable
Seal Lullaby - Eric Whitacre
Prismatic Light - Alan Fernie
Concierto de Aranjuez - Joaquín Rodrigo
English Folk Songs - Seventeen Come Sunday - Ralph Vaughan Williams
My Love is like a Red, Red Rose - Gordon Langford (Cornet Soloist, Josie Allen
) English Folk Songs - Folk Songs from Somerset - Ralph Vaughan Williams
Pastime with Good Company - Henry VIII
Under the Boardwalk - The Drifters (Flugel Soloist, Cerys Hughes)
Xaloc - Jock Mckenzie
Amparito Roca - Jaime Texidor

As you know, Wye Valley Music has close links with the Royal Welsh College of Music & Drama (RWCMD). Our last live concert before the Covid-19 lockdown was the annual showcase for students and so, during this difficult time, we are particularly pleased to be able enjoy and support another group of talented musicians from the college in this way.
Biography
Flora Brass is a Brass Quintet based in Cardiff, comprised of 3rd year students at the Royal Welsh College of Music and Drama. The group formed in 2019, and decided immediately to seek performance opportunities outside of the RWCMD.
All members of the group come from a background of Brass Bands, and this shows in the repertoire the group chooses to play. They currently play for the Flowers Band, the premier Brass Band in the West of England, and for the Tongwynlais Temperance Band and the City of Cardiff Melingriffith Band, two of the leading Brass Bands in Wales.
Something the group is very proud of is performing to over 10,000 Children in 39 schools across South Wales as part of an outreach initiative. Flora Brass has also performed at the Hepburn Music Festival, The RWCMD Philip Jones Brass Ensemble Competition, and given foyer concerts and open day talks at the college. Recently they produced a recorded, virtual concert for the Dinas Powys Music Fest.
The Players
Gregor Spence – Tuba
Bethany Peck – Trombone
Cerys Mair Hughes – Flugel Horn / Cornet
Josie Allen – Cornet / Trumpet
Charley Green – Tenor Horn

Booking details:
Click here to be taken to the booking site on Crowdcast.com.

To join the free pre-concert introduction on Zoom (at 6:15pm) click here

And here are some notes on how to join the Zoom event and on how to enjoy streamed concerts
Price:

£7.50 per viewing device for the concert itself; the pre-concert introduction is free.

Availability:

The concert will be available to view for 1 month afterwards.
Acknowledgments
Many thanks to our friends at the Dinas Powys Festival for allowing us to have access to this recording.